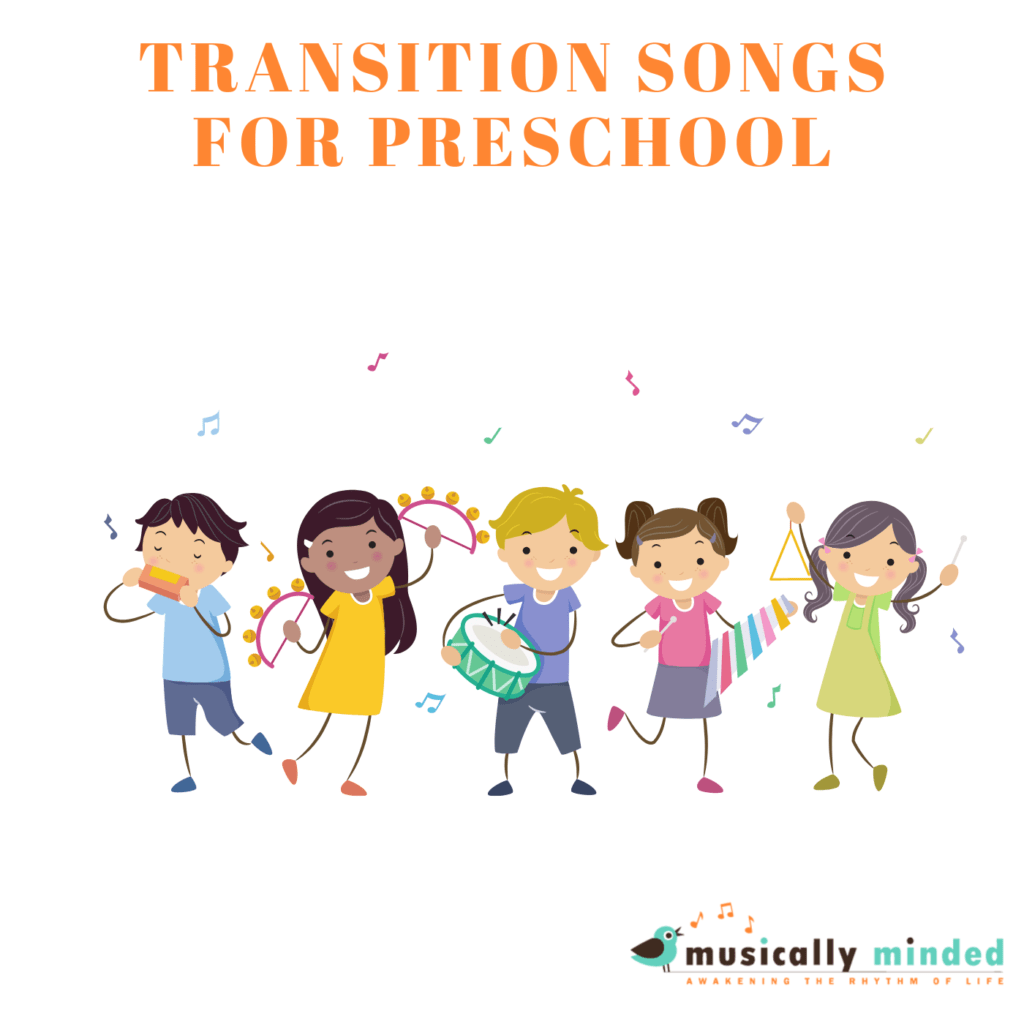 Transition songs are activities that can be used to help your students move from one activity into the next while keeping them engaged in the group.
These types of activities are so valuable in circle time we process music in many different parts of our brain.
With transition songs, we are giving the direction we want our students to follow in a song rather than saying it to them over and over. Adding instructions to a transition song encourages your students stop what they are doing and figure out what you are asking them to do through the song. It also allows circle time to stay bright and encouraging while you give directions in a fun and positive way.

Transition songs are going to connect one activity to the next, helping your circle time flow seamlessly and keeping you students engaged in the group.
Check out these transition songs we have created and give them a try in your class!
We're Cleaning Up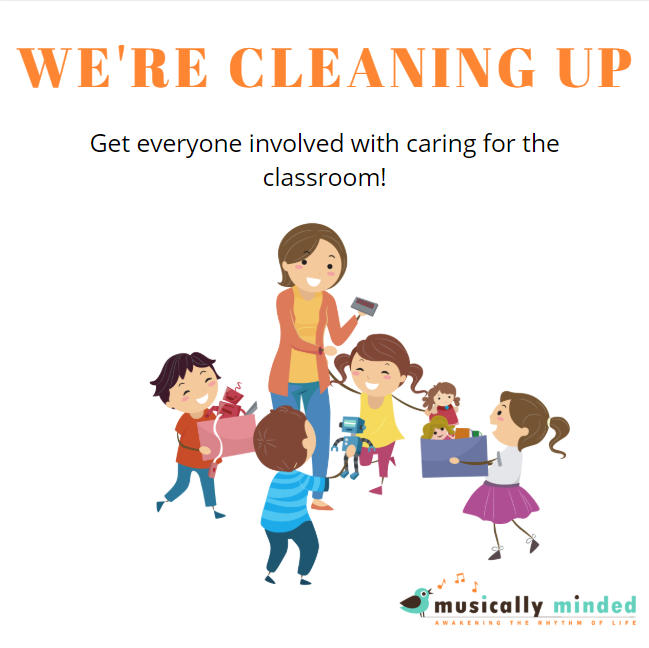 This simple song will make clean up time a breeze! Your students will immediately recognize this song when you play or sing it in the classroom, and they will understand that it is time to put their resources away and move on to something new!
What to do:
Begin by having the children practice listening for the cleaning up signal using the "instrument signal."
Once they are familiar with the signal teach the song at circle time. This will ensure they are familiar with the song before using as it is intended.
Play the "instrument signal" and begin singing the song. Encourage children to sing along while they are cleaning up.
Let's Make a Circle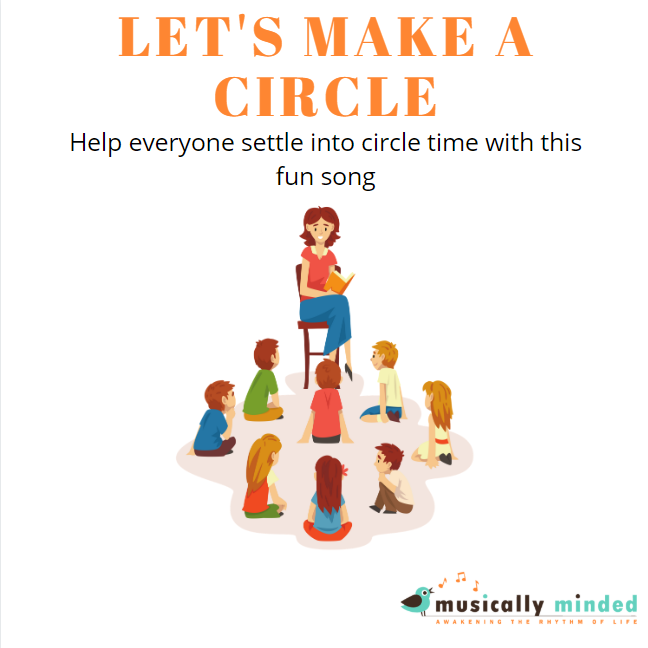 Let's Make a Circle is a great tool for transitioning to a seated activity during circle time. Remind your students of how to sit patiently and help them prepare for the next activity with a friendly song that is sure to catch their attention!
What to do:
Begin by having the children practice moving from the task of cleaning up to the designated circle time area.
Make it a game by timing how quickly they can move into "ready position" i.e. standing up, holding hands and singing this song.
Form a standing circle by joining hands.
Sing song together encouraging children to join in once they are familiar with the words.
Once everyone is in place and read to sit, add one last direction at the end of the song, "sit down."
For You and You and Me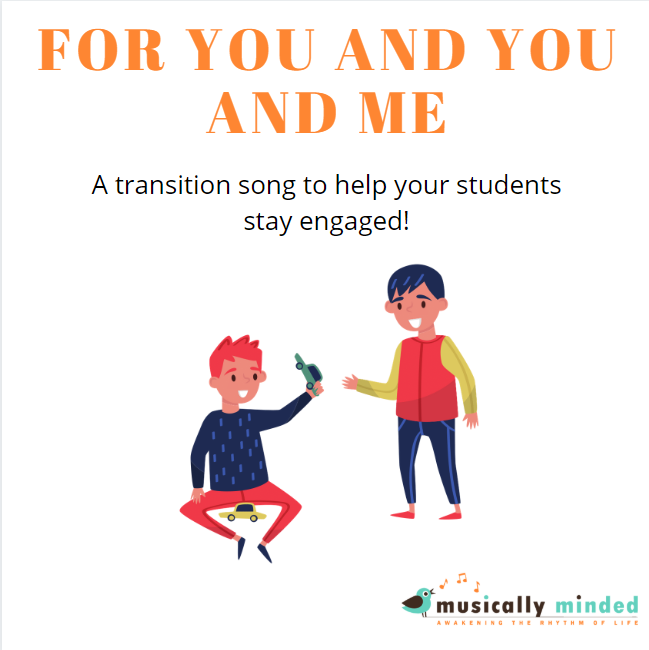 Help your students stay focused while you pass out materials. This song helps your students understand that if they wait patiently, they will get something amazing to hold and play with during circle time! Your students will see you pass out items and hear you singing along, which will build their excitement while keeping them focused on you.
What to do:
Begin singing the song, encouraging children to join in when comfortable.
Sing the song while passing out materials of any kind.
Switch up the lyrics with some of the ideas below or make up your own. The variety will keep children engaged as they wait
Taking Turns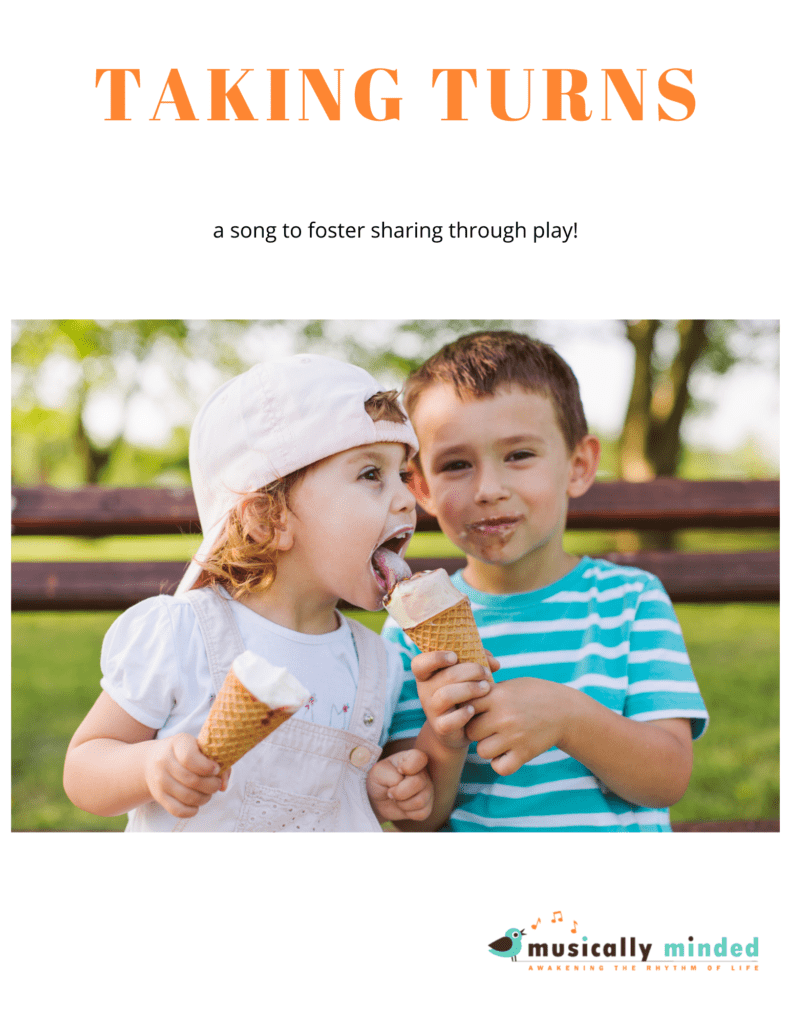 Taking turns can be challenging as students have to practice impulse control, patients, and awareness of other all at the same time. Remind they to stay patient and calm while they wait for their turn with this transition song.
What to do:
Explain to the children you will be passing around an object and each person will be given an opportunity with it. Everyone will be allowed to hold the object while the song is being sung. They will pass it to the person next to them when they hear the four repeating taps.
Turn on the recording or begin singing the song a cappela. For larger groups of children, hit repeat on your CD player!
Transition songs are an incredibly valuable tool in the classroom, and we hope that these will help your circle time run smoothly. Do you have your own transition songs you use in your classroom? Let's talk about them in the comments and share even more great transition songs to make your circle time a success!
Free Songbook!
"10 SONGS EVERY CHILD SHOULD KNOW"
Free Ebook!
7 secrets for Circle Time Success
Tips and Tricks to turn CHAOS to CALM