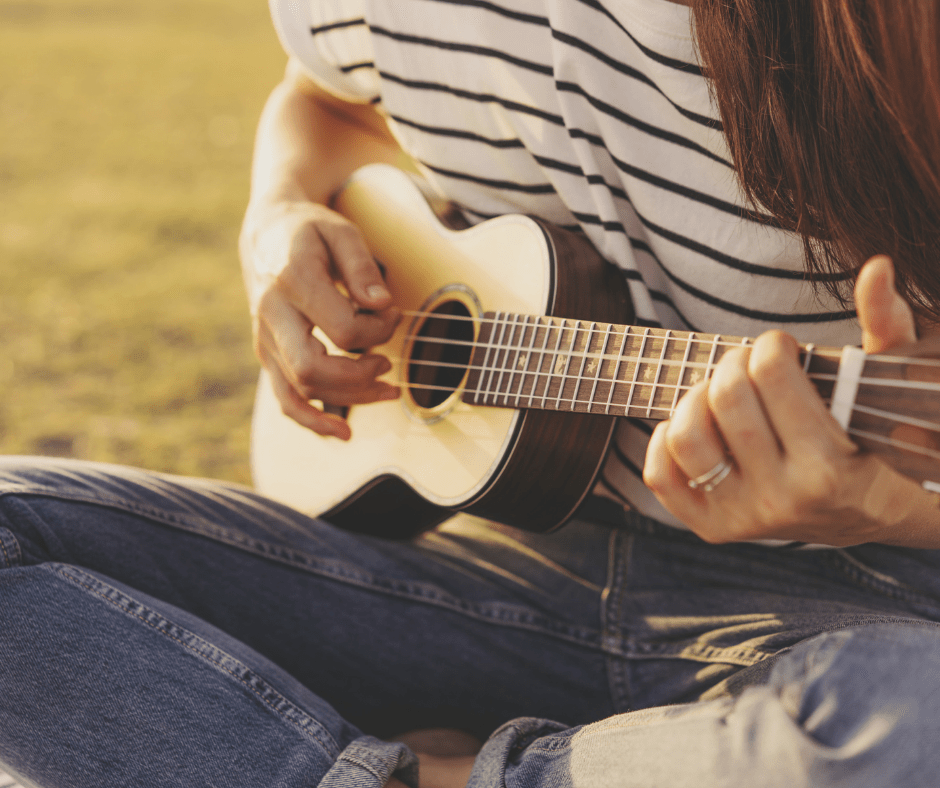 Click here to enroll!
Do you suffer from "I can't play an instrument" blues?
Common symptoms include…
a life-long dream to learn to play that's yet to happen
enrolling in a course, but never completing it
not sure where to find a training that fits your style of learning
a dusty instrument that hasn't seen daylight in your home such as a piano, ukulele or guitar
What if I told you that you'd not only achieve this life-long dream, but you'd also find an outlet that would bring you joy, peace and a ton of fun?
That's what will happen when you learn to play the ukulele!
During this 4-week online program, you will:
♥ Bring the joy back to circle time for kids AND YOU!
♥ Help your students come together to create a community of learners through singing.
♥ Tap into the power of music to teach concepts across the curriculum.
♥ Have children  begging for circle time to last longer!=
♥ Realize you can learn something new that takes your circle times to a whole new level.
♥ Fill your tool box up with songs that kids want to sing again and again.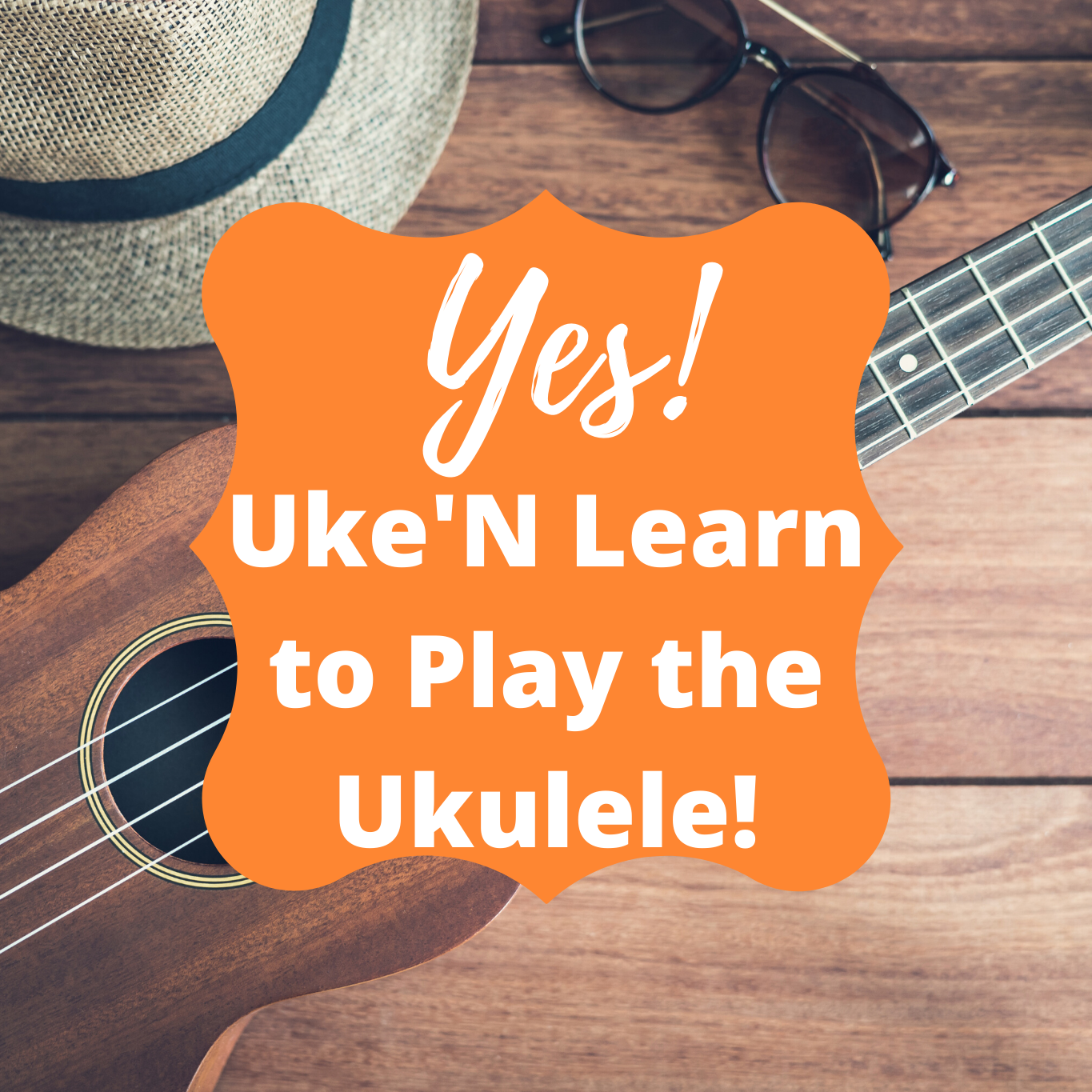 "I love your course and the way you teach! 🙂
I never thought I would be able to play an instrument. 
Practically everything about the ukulele makes it an ideal instrument for educators looking to bring a new skill into the classroom.  It's small, inexpensive, portable, easy to learn and the PERFECT way for teachers to engage little voices,  little eyes, little hands, and little feet.
This 4-week Yes! Uke'N Play the Ukulele class takes the most inexperienced musician and gives them the skills to "wow" even the littlest audience.
Invest in a manageable and fun addition to your classroom, diversify your teaching skills and delight friends and family because Yes! Uke'N Play the Ukulele! 
This is the best way to build a strong beginning foundation and will lead you to play like a pro.  
We'll help you select the right ukulele, teach you to tune the strings so your sound is on point and then teach you to play songs kids love!
I want to play the ukulele!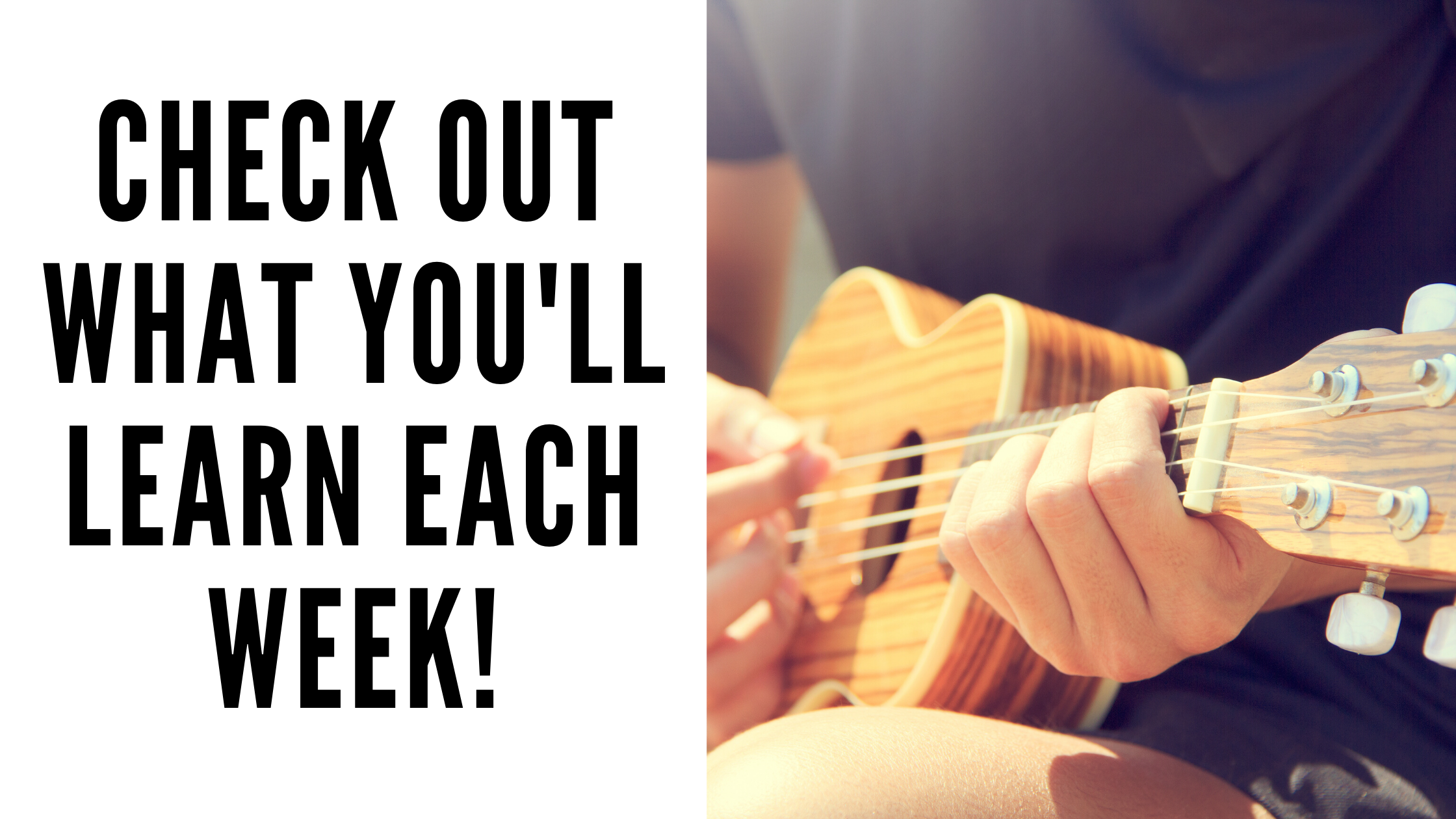 Register for Yes! Uke'N Play the Ukulele and invest in yourself AND your classroom.
You'll be saving hundreds of dollars in private lesson fees, but learning the same skill sets!
Delivered directly to your inbox over four successive weeks, Yes! Uke'N Play the Ukulele lesson plans provide an entire week for students to review the training and follow the practice plan before they receive the next lesson.
If life gets busy, don't worry about falling behind. You have LIFETIME ACCESS to these four modules through the training platform, Teachable. As an added bonus, you can take your training and your ukulele on the road with the Teachable app! You'll be able to access each week's module right on your phone making your learning portable and even easier to achieve.
Week 1 will focus on beginner basic techniques. How to hold your instrument, what each part of the instrument does, tuning the strings, basic strumming and your first chord, C!
Week 2 will focus on teaching you a new chord, G, and a few simple circle time songs to put your new skills into practice. With these two chords you'll be able to play crowd favorites like, Wheels on the Bus and Farmer in the Dell in your classroom! Watch the children react to this fun new circle time activity!
Week 3 builds your abilities by adding the F chord. With daily practice you'll be ready to take the ukulele back to the classroom and try out fan favorites like "Sticky Bubblegum" and "Matilda the Gorilla."
Week 4 you'll learn the A minor chord which will open the door to songs you never thought possible! Move past simple circle time songs and wow your family and friends with "Let it Be," by the Beatles and "Can't Help Falling in Love" by Elivs Presley. These are just two out of hundreds of songs that are available with your newly mastered four chord strum patterns, techniques and pick patterns.
WHAT TEACHERS ARE SAYING…
"I love your course and the way you teach! 🙂 I never thought I would be able to play an instrument. -Magda, Preschool Teacher, Bothell, Washington
"Jocelyn, thanks for helping me every time that I reached you!! I really appreciate all the songs that I have learned. I have been singing all of them to my kids in my zoom meetings. I am still learning how to switch chords, but all the songs that I know now is amazing and thank you so much for that."-Yvette, Preschool Teacher, Palo Alto, California
"This class was well-paced and complete so you could work on it now or later and always have a few songs to play and sing."-David, Retired Judge, Missoula, Montana
"Take it from someone who is not musical. has never played an instrument (well there was that month with a guitar)- this is something that you can pick up really quickly and feel satisfied doing. Now I need singing lessons!"-Linda, Preschool Teacher, Seattle, WA
It's so wonderful! Jocelyn is such a great teacher. Even with just recorded videos, you really feel like it's a live feed and she's really talking to you. You start off really basic with one easy chord and strum. Then each week adds on a new challenge. After just one week, you can already make music and have some songs to play for the kiddos!-Misty, Preschool Teacher, Seattle, Washington
Yes, I'm ready!
Excuse #1 My hands are too big or my hands are too small Did you know the Ukulele comes in four different sizes to fit fingers and hands of all sizes? Learning to play the ukulele is the same whether you are using a soprano, concert, tenor or bass ukulele. Check out our sizing and selection guide to help you choose the perfect ukulele.
Excuse #2 I'm too old to learn to play an instrument You are NEVER too old to learn to play an instrument.  Don't believe us?  Ask a music teacher. Music teachers are eager to teach adult students who are motivated and excited to realize a dream. Or, go ask a neuroscientist who will say DO IT. There is a whole lot of science backing their push for you to play, but the end result is the same. Learning to play an instrument as an adult is a GREAT way to keep your mind sharp and active.
Excuse #3 I have no musical talent Stop right there. Natural talent may make it easier for someone to learn to play the ukulele, but there are really only two things you need to succeed. The first is patience and the second is practice. If you are willing to put in the time and effort you will learn to play even if you've failed in the past.
Excuse #4 I'm way too busy…maybe someday in the future It's true. Our lives are full of commitments and activities that prevent us from doing everything we want to do. But, you're here because you feel that desire to pick up a ukulele and hear the sweet sounds coming from your hard work. Yes! Uke'N Play the Ukulele is a great option for someone leading a busy life. To learn the basics, you just need to make time for one 30 minute lesson each week for 4 weeks as well as 20 minutes per day of practice time.
IT'S TIME TO TOSS THE EXCUSES ASIDE. 
Yes! Uke'N Play the Ukulele!
Yes, I'm ready!
FAQs
When it comes to taking a course like this, there are lots of questions. If you don't see your question answered below, simply send us your question and we will get back to you ASAP!
Next, you'll need internet access. You can view the class on your computer or phone.
Lastly, you'll need motivation to complete the course. Make sure you are super jazzed about learning the ukulele because the only way this will be a success is if you put in the time. You've got this!
Class starts Friday, January 28th, 2022 when the first week's videos are released. Don't worry if you are busy that day, the training is pre- recorded, which means you can watch them at a time that works best for you. I do recommend starting as soon as you can because cramming for a ukulele class never ends well. You'll need all the practice time you can get each week.
The simple answer is because you will need time to practice.  Having a week in between gives you time to work on the skills before moving on.  You'll thank me in the end, promise!
How does lifetime access sound? After enrolling, you will have unlimited access to this course for as long as you like across any and all devices you own.
What if I am unhappy with the course? We would never want you to be unhappy! If once you have taken the course and can show that you have attempted to practice as we have advised, yet you are still not satisfied, please contact us in the first 30 days and we will give you a full refund.
How do I know if this course is right for me? This course is designed for people who work with young children and want to play the ukulele with them. We will be teaching you kid-friendly songs. But, if you simply want to learn to play the ukulele and go on to play non-kid songs, this course will still be great for you because we are teaching the basics.
If you are a Washington State early childhood educator wanting STARS hours, this course counts! You will need to complete the assignment at the end of the course which will prove you did in fact take the course. Then 4 STARS hours will be added to your record.